use
The PLM-3230 transflective polarizing microscope is an essential instrument for the research and identification of birefringent substances by using the polarization characteristics of light. It is widely used in research and inspection in the fields of geology, chemical industry, medical treatment, medicine, etc. It can also observe the crystal phase of liquid polymer materials, biopolymers and liquid crystal materials. It is an ideal instrument for research and teaching in scientific research institutions and colleges and universities. .
Features
1. Adopt infinity optical system and modular function design.
2. Configure the infinity stress-free long working distance plan objective.
3. Wide-angle flat-field eyepiece: The diameter of the field of view is Ф22mm.
4. Coaxial focusing mechanism for coarse and fine movement, adjustable for coarse movement, with limit locking device, fine movement grid value: 2μm.
5. The polarizing observation device can be moved into or out of the optical path, and both the polarizer and the analyzer can be rotated 360°.
6. Rotary stage, 360° equally divided scale, vernier grid value 6', center adjustable, with locking device, the vertical effective travel of the table can reach 30mm.
7. Wide voltage power supply (85-265V 50/60Hz). 6V30W halogen lamp lighting, adjustable brightness.
8. The trinocular tube can be freely switched between visual observation and photomicrography, and 100% light can be passed during photography, which is suitable for low-light microscopic image shooting.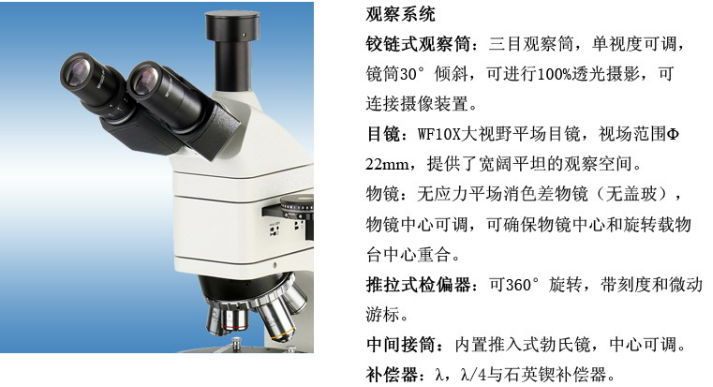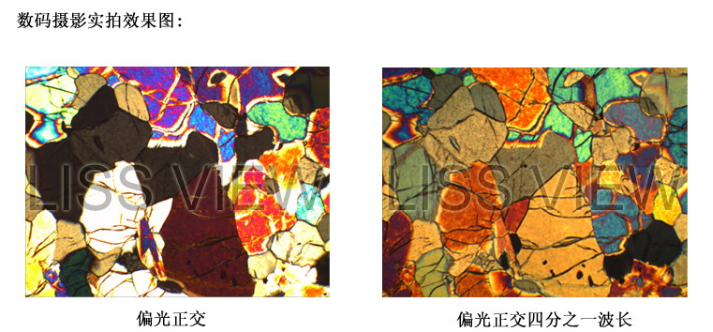 Technical Specifications
1. Standard configuration:
model

PLM-3230

eyepiece

Large field of view WF10X(Φ22mm)

Reticle eyepiece 10X (field of view Φ22mm) grid value 0.10mm/grid

objective lens

Stress-Free Plan Achromatic Objectives (No Coverslip)

PL L5X/0.12 Working distance: 26.1 mm

PL L10X/0.25 Working distance: 20.2 mm
PL L40X/0.60 (spring) Working distance: 3.98 mm

PL L60X/0.75 (spring) Working distance: 2.03 mm

Epi-illumination system

6V30W halogen lamp, brightness adjustable

The polarizer can be rotated 360°

The analyzer can be rotated 360°, with scale and micro-movement vernier

Built-in field of view and aperture diaphragm

converter

Four holes (the center of the converter can be adjusted)

Intermediate canister

Push-in Bertrand lens

Compensator

λ , λ/4 and Quartz Wedge Compensator

eyepiece tube

The trinocular can be tilted 30˚ for 100% light transmission photography

Focusing mechanism

Coarse and micro-movement coaxial focusing, with locking and limiting device, micro-movement grid value: 2μm

Optional accessories:
name

Category/Technical Parameters

objective lens

Stress-Free Plan Achromatic Objectives (No Coverslip)

PL L 20X/0.40 working distance: 8.80mm

PL L50X/0.70 (spring) Working distance: 3.68 mm

PL L80X/0.80 (spring) Working distance: 1.25 mm

PL L100X//0.85 (spring) Working distance: 0.4 mm

converter

Five holes (inward ball positioning)

moving ruler

Movement range: 30mmX25mm

CCD connector

0.5X

digital camera

USB output: ≥300 pixels